The Super General Dental Practice
Revised and Expanded 2nd Edition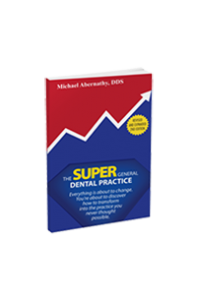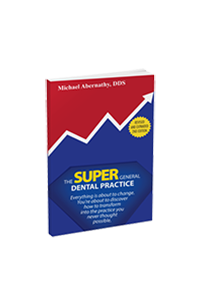 We are faced with numerous game-changing challenges that threaten to end dentistry as we know it. Only by learning the secrets of the Super General Dental Practice will you have the assurance of thriving regardless of the economy.
Highly productive, profitable practices are not an accident. There is a very precise, predictable way to grow a practice to any level you want. This strategy also includes creating a figurative faucet of new patients that you can turn on or off at will. Forget about the threats and take advantage of the knowledge and systems that Dr. Michael Abernathy has perfected in his practices and the thousands of doctors' practices that he has impacted in his almost four decades as a speaker, author, and coach.
Dr. Abernathy's newest book, The Super General Dental Practice: Revised and Expanded 2nd Edition, is a roadmap to creating the practice you always knew you would have.
Price is $19.95 with FREE shipping. Don't wait. Order today.