180 Degree Dental Journey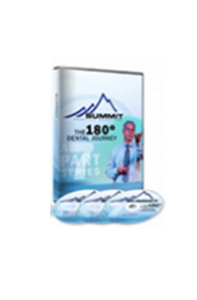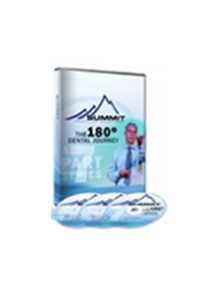 This one-of-a-kind, new, very intense 180 Degree Dental Journey will challenge you as never before. You'll see beyond tradition, the way you've always done it in the past and how you're doing it in the present. You'll understand the obstacles and barriers to growth, and you'll begin to see your practice, your opportunities, and your patients in a whole new, invigorating way.
You will gain specific, precise, 1-2-3 "battlefield-tested" new strategies for significantly increasing your income WITHOUT increasing your chairside hours, WITHOUT working harder, WITHOUT investing in new equipment, WITHOUT increasing overhead, and WITHOUT compromising your integrity.
What would you pay to have someone patiently teach these exact secrets to you – and guide you to the actions you need to take for these secrets to pay off?
This 7-DVD set was recorded live in two half-day sessions. It was simply too intense to present in one day. Now you can watch and learn at your own pace. And don't forget to include your team!
Price is $197 plus $10 shipping. Order today.