I have a short and simple rule to kick start your internal marketing: When it comes to patient/office contact, always have the doctor do his/her fair share. One of the simplest and most profound results for internal marketing can be found in a little card we call "The Terrific Patient Card". For over 25 years, I have written a short note to every patient I stuck with a needle. Its purpose has been four fold:
1. To stay in constant contact with my clients in the form of a personal "drip" marketing campaign. I want to make it difficult for my patients to forget me or even consider me to be like other doctors. I want to constantly remind them that we are unique in a special way.
2. To show the patients that I care and it shows. In this tenuous relationship we have with our clients, we need to remember that repetition and reinforcement is key to encouraging patients to stay with us. Sorry to say, they want to know what you have done for them today, and many of us forget that they have driven by 50 other doctors to get to our office. If you don't fall into the habit of showing you care, they will fall out of coming to your office.
3. To ask for referrals every time I can. I seldom (never) see staff and doctors truly ask for referrals. They are satisfied with getting 20-30 % of their patients from direct referrals, or through throwing more and more money at a marketing campaign that is destined to fail rather than taking the time to engage their current patients.
4. To encourage communication with our clients. The more times you ask, question, and engage your clients in meaningful conversation about what they want, the more likely you will have the feedback to improve what you give them. Change is a constant, and constantly finding out what that change needs to be is key in staying ahead of the pack of dentists that would love to be the "it" dentist in their area. Friends talk, and help each other to be successful.
Final results were that we had an 87% referral rate for our office for decades. I don't discount the efforts of my staff or the systems we designed, but a great deal of our referral success can be directly attributed to taking 20 seconds to send a Terrific Patient Card. This is a black and white, do it now before you fall back into the same old habits that got you where you are today, can't miss strategy that will help you Summit like the rest of us.
Michael Abernathy, DDS
972-523-4660 cell
[email protected]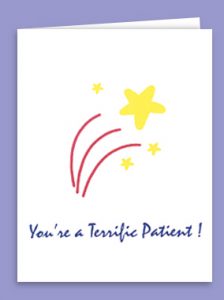 http://www.abbottcards.com/prodinfo.asp?number=PA301W