The Nuts and Bolts of Partnering with Your Hygienist in Case Acceptance
As we continue to break down and look at ways to improve case acceptance as well as case presentation, remember that I have written this as if I am speaking directly to your hygienist.  Make sure you are sharing this information as well as requiring every member of your team to follow along.  Leaders have followers.

We need to consider the tricks of the trade to make you both efficient and effective in dealing with other staff members, patients, and the doctor.  These points will delve into the philosophy and techniques of daily hygiene that will guarantee success.
Becoming the team member that everyone wished you were.  This is a touchy subject and would readily apply to most doctors, too.  There is a difference in a "team" and a "group" of people that work together.  I would have to say I find far more "groups" than "teams" in dental practices.  As an aside, I would recommend that you and the rest of the office take the time to read and study a short book by Patrick Lencioni called "The Five Dysfunctions of a Team".  This book is the best of its kind.  It will quickly point out the areas where you fall short as well as guidance on how to improve.  Without a strong team you will never have a stellar practice.  In respect to the hygienist, and more often than not, with the doctor, I see an elevated sense of value or worth for no apparent reason.  Because of their degrees, they look down on the other team members.  Evidently there are jobs and duties that fall beneath the dignity of a hygienist or doctor to do.  That is as far from the truth as East is from West.  Yes, you went to school longer and are paid better, but in the realm of teamwork and your role as a team member you need to put on an attitude of "whatever it takes".   You assist if you are asked and have the time.  You call patients to confirm if there is a cancellation.  You look at and worry about your schedule.  Bottom line: Stop being the "I'm too good for that" employee seen far too often in the average dental office.  This attitude seems to drip off some hygienists and doctors, leaving a bad smell and an attitude of disregard for fellow team members. Enough said, just check your attitude of superiority at the door, and put on your big girl panties and deal with being a valuable team player.  As for the doctor, I was always the first person there in the morning and the last person to leave at the end of the day.  I was often the person sucking fluid through the vacuum line, emptying trash, or bagging instruments for sterilization at the end of the day because my staff was busy "inspiring" our last patient.  You will notice I did not say "my" last patient.  The business, the patients, and the results we got were always accomplished with a "we" attitude.  Our offices, not just mine, were always "Purpose Driven, Doctor Led, and Staff Owned".  The attitude of "our" kept us all thinking like owners.  This directly accounted for an average staff employment of over 14.7 years.  It also was the reason that each and every staff member shared in a bonus that meant an extra $2,000 to $3,000 for each person each and every month while still maintaining a total practice overhead that hovered around 52%.  (The hygienists also got the bonus even though their "paycheck" was commission based – just in case you were wondering.)
Patients say yes to their emotions, not your logic.  New doctors and hygienists seem to revert back to what is most comfortable for them: A classroom.  You've already seen the scripts and systems we use to compensate for this tendency and take advantage of the patient's tendency to make buying decisions based on emotions.  That means throwing away the Dentistry 101 lecture, forget using dental words, and stop trying to logically convince your audience that gum disease will kill them, or justify your fees.  It's all about getting that emotional response.  If you can touch their emotions, they will own the problem.  Fundamentally, most patients walk in thinking that you are going to "fix" them.  They think it's just a matter of having someone do something for them to be fixed, and this is all wrong.  Whether you are the doctor or the hygienist, you have to help them "own" the problem.  There is nothing you can do for them that they can't undo between visits.  You are not fixing them.  It is their problem and they have to own it.  They got there all by themselves and they need to understand that they will have to make changes in order to correct where they find themselves now.  You will only be able to get them to a place where they have a chance of maintaining health.  You can't do it for them.  In the process of presenting your findings, you have to understand that anything you find is going to be worse than they thought.  The process of helping patients "want" treatment begins with the first phone call, and continues through the actual treatment.  With this in mind, you must continue to involve the patient in the discovery process by talking to them about what you are going to do and what you find as you find it.  Use your technology to involve them mentally and visually.  Most of us are visual learners, so if you are not using an intraoral camera on each and every patient you are not going to succeed in 100% case acceptance.  If the doctor comes into the room to check a recall or new patient there had better be lots of photos that the patient has already seen and been able to ask questions about and get answers that satisfied them.  I want every patient presold and staged in such a way that the answer will always be yes.  The only point that will not be completed is fitting it into their budget.  Financial secretaries see this all the time and I will bet each of you have seen this, too.  You tell the patient nothing in the triage and wait for the doctor to "diagnose" the patients and do a case presentation, or as we say:  Drop the bomb on them.  The doctor goes through the Dental 101 speech, turns to the patient and asks: "Do you have any questions?"  Which is quickly followed by the patient answering: "No, not really", followed by an even quicker exit by the doctor.  The minute the doctor leaves the patient turns to you and asks: "What is he going to do about _____and about _____?"  If this is happening, no one is doing a good job of case presentation.  Think about it.  The patient doesn't feel qualified to ask a question of the doctor.  They also feel like his or her diagnosis is dependent on how much the doctor's new car payment is.  They are far more comfortable asking you questions than they are of the doctor.  They feel as though you have no reason to present them with anything other than what is really needed.  You have no ulterior motives in case presentation.  They don't feel like they are being sold anything.  So pre-close the patient by listening to what they want.  Assure them that your office will start with their primary concern, and take the time to point out other areas of need while helping them emotionally understand what needs to be done prior to having the doctor in to check your patient.  Do this and the patient will feel cared for and the doctor will be in and out much quicker while appearing not to pressure the patient to follow through with treatment.  Your goal is to have the patient show up, follow thru, pay for treatment, and refer everyone they know.

Recall.  Every office has a recall system and most are broken.  The average dental office has a 42% recall rate.  Take the time and generate a list that gives you the names of all patients that have not made it back in the last 6-12 months.  If the normal hygienist works around 190 days a year, and sees about 8 patients a day (your cancellations and no-shows could lower the number of patients seen per day which would be worse), you would need to hire a new hygienist every year after bringing in 600 new patients (a single hygienist can see about 600 patients a year if they see about 25-30 new patients a month and do a reasonable amount of scaling and root planing).  Knowing this, why do you still just have one hygienist?  This says volumes about whether you are inspiring your patients or not.  If you have not hired an additional hygienist for every 600 or so new patients, it means that the patients you are seeing are not coming back.  If they did, you wouldn't be able to service them in a timely fashion.  If you really had your house in order, your recall would be in the mid-80th percentile.  Marketing brings patients in, but if our message and methods don't meet or exceed the patient's expectations, you will have a situation where this happens.  Consider that marketing opens the front door of the practice, while how you take care of them closes the back door.  Most of you run off more patients than you attract, otherwise you would need that additional hygienist and doctor every couple of years.
Let's look at how you are doing recall now.  Currently most offices us a software-based recall system with texts and email to confirm and keep up with recall and reactivation.   Even if you have a hybrid system by utilizing your computer to print, sort, and distribute some form of recall card in addition to the digital contacts, your system is causing you to languish in mediocrity when it comes to hygiene recall.  This is going to sound a little old school, but the best way to do recall is to use an oversize post card that is larger than a legal envelope.  Have the patient self-address it at the cleaning appointment so that when they actually receive it in 6 months, they recognize the writing, pause, read it, and not automatically throw it out with all of the other junk mail they receive.  In addition, you need to take the time to write some personal note that includes some fact or item that the two of you discussed about their lives and then sign it.  It might say: "Can't wait to hear about your niece's first year as a cheerleader.  Marcie."  This card will be put in a four week/month card file system so that it will go out 2 weeks in advance of the scheduled appointment.  Imagine your patient getting that recall card.  They can't miss it because it colorful and larger than most of their mail.  She looks at it because she recognizes her own handwriting, and she reads the personal note.  She thinks you wrote the note the day it was mailed, and is very surprised and impressed that you remembered what the two of you spoke about 6 months ago.  Follow the card with a call about 3-4 days before, and a final confirmation 24 hours before the appointment.  Email and text messaging are also effective reminders for some patients but these software-based notification systems were never design to take the place of an already good system.  They are only an adjunct to a good system.  You should be "customizing" the appointment reminders on a patient-by-patient basis.  Do "whatever it takes" to be sure the appointment is confirmed.  Even doing all of this, there will still be some patients who no-show.  Do yourself a favor: Stop putting these people back on the schedule.  Either put them on a last-minute call list (you call them when you have an opening), or have them pre-pay in full for the appointment.
Keeping Score.  I feel that every position in the office should have some way to measure performance.  This is called the "Hawthorne Effect": What gets measured gets done.  We try to identify the two or three most important things you need to get done daily and then we measure them and compare to a goal.   Complete these top two or three things and it will be a great day.  In hygiene we measure your production on a weekly basis, the number of crowns you present, and the number of scaling and root planing cases you begin on a weekly basis.  Each will have a goal marked in red on a graph.  You, the hygienist, will plot the numbers on a weekly basis.  As long as the graph is improving and going up, we don't need to have a conversation.  If it is going down or you are struggling, we will need to talk, retrain, or come up with a strategy for improvement.  Day-to-day we need to always try to schedule about 15% more treatment than your goal for the day.  A productive hygienist should produce (net adjusted production) about $1,100 to $2,500/day.  A point to remember is that with the increase of managed care and the deep discount that they exact on hygiene procedures, these production numbers are based on net adjusted production.  With a well written job description, thorough training, a way to measure your results, and consequences for not meeting the agreed upon results, you will see a marked improvement in both focus and results.
Subtleties in Scheduling for Hygiene.  It's not my intention to try and teach you everything about hygiene scheduling, but allow me to give you an overview and some very important tips that are very often overlooked.  NOTE: There are no "difficult cleanings".  There is no ADA code that applies.  It is either a regular cleaning or it is a periodontal condition that needs more extensive treatment.  If it really takes you 60 minutes to clean someone, it is probably a soft tissue or periodontal case.  There have always been differences between one hygienist and another when it comes to diagnosis of soft tissue, but we need to agree that if a certain length of time to perform the prophy is exceeded, or if there are bleeding points and periodontal pockets, the appointment constitutes something more than a cleaning, and this needs to be addressed with the patient and appropriately charged for.  In the next section, I will go over the system and actual scripts to use. But for now, we need to agree that there should be no difficult cleanings.  When we look at scheduling, it is almost laughable that we continue to see one-hour long appointments for recall.  If you were on commission or really engineering your schedule, you would find varying appointment times based on each patient's needs.  It's almost as if some hygienists build in coffee breaks and down times or add ten minutes because the doctor does not respond to your call to check your patient.  I assure you that if the staff had an ownership mentality and were paid based on their results, the schedule would look altogether different.  Let's take a worse case example of a schedule filled with nothing but hour-long recall patients for a typical eight- hour day.  That's eight patients all coming in for a cleaning and maybe a bitewing or two.  The national average for cancellations and no-shows is somewhere around 15% or higher per day.  That means at the end of the day you could expect 1-2 people not to show on this schedule causing a possible 25% loss of productivity.  If the hygienist could just lessen the time from 60 minutes to 50 minutes, you would have at least 80 more minutes that day or maybe a couple of more patients that if we did great on eliminating cancellations, we might see a 30-40% increase in collectable production from hygiene.  I feel that the only fair way to pay or compensate hygienists would be exactly like an associate doctor.  That would be in the range of 27% to 32% of net adjusted production.  If the hygienist was paid a commission and we could maintain that pace throughout the month, she might realize an increase in take home pay of 20% or more.  This is a win/win for both the doctor and hygienist.  The hygienist has unlimited earning potential and the doctor has mitigated his risk of having to pay for staffing with no corresponding production.  It means both parties have some bacon in the fire.  The ripple effect of this is that with a couple of more patients per day, the doctor would also see an increase of about 30% on his schedule when you consider that 67% of all the work on the doctor's schedule comes through hygiene recall, not new patients.  Throw in some soft tissue and new patients and you can literally double a practice in no time.  If you increase your recall, and inspire the patients to refer, you get another bump and before you know it you will need more hygienists and doctors.  This is what a great practice looks like.  Your goal each day should be to pre-schedule at least 90% of your patients in the future.
There is an overlooked strategy that we need to discuss.  You should never book more than 70% of any one day in the future with these recall patients.  The reason for this is so that you will have the capacity to see new patients and schedule your soft tissue treatment in a timely fashion.  Think back to when we were discussing peak demand times: 7-9AM and 3-6PM and all-day Saturday.  These are the times that everyone wants to come in.  They are also the easiest to fill.  Most importantly is that they are the only times a new patient will want to come in.  So, your job will be to guard these peak demand times for substantial productive cases and new patients.  Secondly you want to try and guide the patients who already know and love you into coming in during non-peak demand times (9-3).  Even if you get only 1 or 2 per day to do this, it means that you will have about 32 places in that month to put these new patients.  Now what do you do about the 30% you did not schedule on that day in the future?  They go in another column on that day knowing that they can be used to fill a cancellation or failing that if the day is full, you will hire another hygienist.  These would be younger patients who would not be upset seeing a different face for a cleaning.  Note:  If you do not have peak demand times available, you should not market or try to increase new patients.  If this is the case, you must find out why (normally facility capacity, or patient capacity, or team capacity).  This is a blockage that has to be fixed in order for any practice to grow.  For a hygiene schedule to be effective and productive, 60% of the day has to be in substantial cases.  These are things other than just a normal recall.  Things like soft tissue, impressions for night guards, interceptive orthopedics, quadrants of sealants, etc.  To facilitate this, your front desk should check the insurance of every patient that is coming in the next day and summarize what is available for the hygienist or doctor to work in.  This could be sealants on adults, fluoride treatments, and diagnosed but unfinished treatment.  One step you should incorporate on both the hygiene and doctor's schedule is a pre-appointment call for all new patients.  You call, introduce yourself, and ask: "Is there anything I might do or any question I might answer that would make tomorrows appointment go smoother for you?"  This is huge.  No one will no-show after this.  They have never had a doctor or hygienist call and ask anything to make their visit better.  It separates you from the Donor practice down the street.  This is the level of "WOW" that creates a lifetime patient and a raving fan that will refer everyone they know.
Fees, coding, and bundling.  We have to keep our fees comparable to the usual fees found in your area.  You should review these fees every couple of years.  In addition, you should raise your fees 2-4 percent every year.  We generally did this every January and July in smaller increments equaling about a 2-4% increase for the year.  If you have not done a fee review, just email us your zip code and we can forward this to you.  You should keep your fees at about the 80th percentile.  The next area you need to become an expert in is maximizing each patient's insurance benefits.  Coding for the best benefit along with the most reimbursement is so important.  I recommend that your office subscribe to Insurance Solutions Newsletter or Trojan and also buy Charles Blair's book "Coding with Confidence".  The last area is bundling.  How you present treatment, along with how you bundle the fee can add thousands to the bottom line.  If you happily give patients what they want, and tell them what they need, you can raise case acceptance to almost 100%.  If you have not read our article about "100% Case Acceptance" let me know and I will send it to you.  It should be considered a prerequisite to reading this article.  They will complement each other and allow you to get the maximum result.
Scheduling for productivity.  60% of any hygiene day needs to be made up of "Substantial Cases".  This would be procedures like quadrants of sealants, scaling and root planing, impressions for sleep apnea appliances, snore guards, bruxing devices, and new patient appointments.  A day comprised of six-month recalls will not allow for a productive day.  As mentioned earlier, we expect a good hygienist to produce in the area of $1,100-$2,500/day, unassisted.  A hygienist should produce at least 3 times what they are paid.  If they make $300/day (and you would need to add in matching taxes, benefits, vacation, other benefits, etc.) they should produce a minimum $900/day of net adjusted production to make this work.  We always suggest moving to a commission basis of pay that creates unlimited earning potential for you, the hygienist, while sharing the risk of down times with the doctor.  Most times we start with a hybrid where there is a base pay plus a commission.  Take a hard look at your hygiene department and understand it is a profit center that needs to be based on sound business principles that both the doctor and hygienist understand.
The Silent Killer:  Assisted Hygiene.  This is going to sound a little counter intuitive from someone who had nine hygienists and was always looking to improve the bottom line, but for 99% of the practices out there, I would not recommend assisted hygiene.  There are several reasons.  In its purest form, assisted hygiene has the hygienist doing only what she can do based on the dental practice act in your state.  This means she scales and leaves.  This means that getting the patient, all record keeping, all triage, pocket depths, patient education, photos, x-rays, etc., falls to the assistant.  The problem is that this assistant has to be the most valuable assistant in the entire office.  It should be the assistant that has worked the longest with the doctor and knows his exact words and diagnosis traits and is totally committed to the culture of the office.  It would be that assistant that the doctor couldn't work without.  Just the opposite happens.  This is typically an entry-level position for a marginal, or at least unproven, team member.  Think about it.  You are exposing your most valuable asset of recall and new patients to someone that you are depending on to form a relationship that will bond the patient to the practice.  Assisted hygiene will increase hygiene production, but you will also see an increasing number of patients that don't follow thru with their treatment plan.  Patients are concerned about money, time, fear, and trust.  Using assisted hygiene almost always destroys the "trust" factor.  If you are considering assisted hygiene or are already doing it, please consider limiting it to just children in your practice.  Adult assisted hygiene can devastate an otherwise healthy recall and profitable practice.
The Soft Tissue Impasse.  Hygiene departments just can't make it on just 100% recall.  We need fresh bodies in the form of new patients.  With new patients we have the potential of more soft tissue or root planning and scaling.  Hygienists need to understand that if it takes you more than about 40-50 minutes to examine, prophy, and take bitewings on a typical recall patient, it is not a cleaning.  If bleeding points and exudates exist, your patient has an infection based on a periodontal disease pathogen.  Later on, we will discuss the scripts and how to handle patients to get maximum acceptance of treatment recommendations
The Oral Fitness Report.  While our offices are chartless, we do use paper that leaves the office but we do not track or keep a copy.   The OHFR (Oral Hygiene Fitness Report) is a document that creates added value to the hygiene appointment by helping the patients understand that this is not just a cleaning.  By using the OHFR you will find that patients have a new level of appreciation of what you do and how well you do it.  I have included a copy for your review and use.  Every hygiene patient leaves with this document.  You do not need to keep a copy or track it in any way.
NOTE:  The following image of the Hygiene Fitness Report was printed on a tear off tablet and was kept in every hygiene op.  Patients going through hygiene were all given this summary of what was done and the condition of their mouth.  It always was impressive to the patient as well as helping them to understand the quality of care and the extent of what went on during their visit.  Don't short cut the process or miss out on the details.  Do this and do it every time.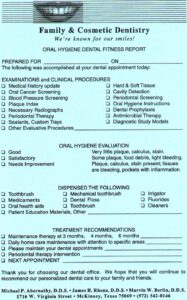 Transitions to more comprehensive soft tissue treatment.   Each step should be incorporated into your hygiene system.  Some of the steps need to be done by the doctor, but most should be utilized by the hygienist.  As a reminder, if you have a doctor that is too assertive this process will make them come off as being more caring and compassionate than they would normally be.   If your doctor is non-assertive, it will make them look more competent.  This is a can't miss strategy that will help everyone win.  Your patients will understand the condition of their mouth, you will have helped them to want what they need, and the doctor will be in and out of your op much more quickly.  But the patient will feel like all of their questions were answered and that there was quality time spent with them.  You will look remarkable in their eyes.

During this journey, you should be constantly determining where you are and what progress you have made.  This is not for the light hearted or the sometimes-engaged office.  You are on a journey where mistakes are crippling your future.  There are more directions to come.  Make sure you are up to date and ready to act.

Michael Abernathy, DDS
972.523.4660 cell
[email protected]