Using Your Hygienist and Assistant to Stage Success in Case Presentation
On any journey, especially when you have a car full of people and a long, drawn-out agenda, you need to delegate some or even most of the duties: Driving, map reading, finding somewhere to rest and eat.  Case acceptance is not just a moment in time.  Case presentation is not the duty of one person.  Like most things in life, success in dentistry hinges on multiple layers of habits and systems, along with a "team" with worthy goals and vision.  Success is not the job of one person, but of many.  The destination is the same, but success is more likely to happen when we partner with others.
Most dentists would like to think that our patients come to our practice to see us, the doctors.  That's just not true.  Your patients bond to the office, primarily because of the staff, and this is particularly true when it comes to the hygienist.  Hygiene is the hub about which most successful practices orbit and all really productive practices are driven by their incredibly strong recall systems and hygiene staff.  As an aside, 67% of all the dentistry you will ever do in your practice will come out of "recall" hygiene.  In fact, I have never seen a well-run, super profitable dental practice without a stellar hygiene department.  What has escaped most doctors is the importance of how successful practices integrate the hygienist and all the systems surrounding them in order to "stage" a perfect visit for our new patients and retuning patients of record.  Get this wrong and you will never realize your practice's full potential.  Get it right and there is no limit.
My main office was fortunate to have 11 of the best hygienists I have ever seen.  Fortunate is a great word, but as you will see, we were very intentional about where we looked to hire, how we interviewed, how they were paid, onboarded, and trained. Based on this as a foundation, added to the thousands of offices we have visited and coached over the last three decades, I would like to give you a brief description of how to integrate your hygiene department into the whole of your practice.
Let's begin with the end in mind.  You are trying to create systems and hire staff that will inspire your patients to show up, pay for their treatment, and refer everyone they know.  In a way, this defines success in the consumer driven business we find ourselves in.  Your hygienists and all the systems that surround them are key to this process.  Hygiene is not a loss leader.  Your hygiene department is foundational to a profitable dental practice.  Precision in these systems, along with their application, is a constant in my practices and every successful practice I have known.  As you have probably already guessed, we stage everything to make sure we are successful in anything we attempt.  These systems and protocols were formed across years of mistakes and do-overs and refined through my mentors, coaches, and trial and error.  After forty years, you can assure yourself that what we are discussing will almost always carry you across the finish line.  The only thing holding you back will be your inability to act.
Before jumping into this, I should point out that I'm primarily writing this as if I was speaking directly with a hygienist.  If you are the doctor and you're reading this, be absolutely sure you have your hygienist(s) read it.  In fact, everyone in the office should read it.  That's the only way that you will ever incorporate a true system into this, or any other, part of the practice.  Everything we discuss in the 180 Degree Dental Journey hinges on "staging" your protocols, systems, and team effort with a very specific goal in mind: Having patients show up, pay for their treatment, and refer everyone they know.
As a doctor, I am a little confounded when I ask staff what their job is.  Seldom do they respond with the answer I am looking for.  I say this so that the hygienists don't feel like I'm just picking on them.  Almost every staff person thinks their job is what they do physically all day long.  They are wrong, but it's not their fault.  For several years during school, hygienists have been brain washed.  You were told that success in hygiene depended on your ability to educate the patient and diagnose and treat soft tissue disease.  Zero bleeding points, normal probing depths, and a patient educated in gum disease to a master's degree level is everything.  The problem is that this is not your job.  Yes, I expect that to get done, but what I'm paying you to do is inspire our patients.  Just telling someone what they need will never get the patient or you to where you want to go.  Doing a great cleaning is not what patients are paying for.  They expect that.  They can get that in every practice in town.  To be a successful hygienist, patients have to own the problem, and want the solution.  This happens when the patients feel the caring and compassion from a hygienist whose greatest assets revolve around their people skills.  A hygienist who is lacking in excellent people skills has chosen the wrong profession.  For the most part, if you lack great people skills you need to move on down the road.  You will never be a successful hygienist or asset to your practice.  Consumers vote with their feet, and if you don't inspire them first, you will constantly see the back of their heads as they travel down the street to another practice that cares.  Guess what?  Only the patient decides whether or not their needs are being met, and you can't get better at giving patients what they don't want.  Patients, and patients alone, decide whom they will buy dental services and products from.
There are two types of practices in Dentistry:  The Donor practice and the Recipient practice.  The Donor practice has fine-tuned everything they do to drive patients away.  They fail to meet the patient's needs and expectations, so the patient tries another practice.  Most Donor practices are clueless as to why patients don't find their practice attractive.  You're a Donor practice if you have a significant number of cancellations and no-shows, patients needing a second opinion, patients wanting to discuss the treatment with their spouses, there is high staff turn-over, you don't get at least 50-60% direct referrals, you are marketing driven to attract patients, and your recall is below 80%.  The Recipient practice is the practice down the street with 50-75 new patients per doctor per month, an 80% direct referral rate, two hygienists for each doctor, consumer friendly hours, great staff, and a line of loyal patients waiting to get in and referring everyone they know.  The strange thing about both of these is that often times the Donor or Recipient practices are unaware of what they are doing or why they get the results they get.  In a way, there are also Donor and Recipient hygienists.
You, as the hygienist, are on the front line to make a good or bad impression.  Every system and everything you do should be staged to meet your patient's expectations and, in most cases, exceed them.  You are the face, the voice, and the personality of the practice.  Fall short as an ambassador and you have failed as a hygienist.  In our offices, 80% of the success of tying the patient to the practice was because of our hygienists.  We respected each hygienist as a true professional and we expected great things from them and the systems that evolved around them.  In addition to this expectation of certain results, we also rewarded them with bonuses, 401K, medical insurance, uniform allowance, continuing education, and base pay derived from a commission of $100,000 to $180,000 plus per year or about 30%-33% of their net adjusted production.
What is the job of the hygienist?
I mentioned earlier that while you clean teeth, take x-rays, gather clinical information, triage treatment modalities, and educate the patient on homecare, your real job is inspiring the patient.  So how can a hygienist inspire a patient?
It starts with a call. The most important piece of technology in the office is the telephone, and the most important person to a new client is the person who answers it. Remind your front desk that if they do not inspire that new patient with their voice, that you, the hygienist or doctor, will not even get the opportunity to mess up the process.  You get one chance and one chance only to get this right.  Statistically you have 3 seconds to make this work when you answer the phone.  That means that if you are the average office, you will have 25 new patients a month and the first three seconds of a conversation sets you up to succeed or fail.  75 seconds a month to pay the bills and make a profit.  This is do or die.  If you find that you are struggling here, you either provide them with more training or you free up someone's future and hire someone that can get the job done.
It continues with a call. Inspiring someone comes from doing the unexpected in a "remarkable" way. Every patient that you have done extensive work on, like soft tissue and scaling procedures, needs to be called by you the evening after that procedure.  Taking this one step further, every new patient that you will see the next day deserves a call from you to just ask: "This is ___________. I was just calling to see if there was anything I could do to make your visit tomorrow go more smoothly?"
3.The new patient expects to be able to schedule a cleaning on the first appointment no longer than 4-10 days after the call.  NOTE: That is not "work" days.  That means that if they call you on Thursday, Sunday is four days and Saturday after that is the tenth day.  Sooner would be better.  Fail at this and your practice will fail to grow.  You will notice that I said clean their teeth on the first appointment.  If your policy is to never clean teeth on the first appointment, you have a death wish when it comes to growth.  Start thinking TLC: Think Like the Consumer.  In addition to being seen within 4-10 days of their call, they also expect to be seen during "peak demand times".   Any front desk person can tell you that patients only want to come in either early (7 to 9AM), or late (3 to 6PM) and on Saturdays.  These are your "peak demand times".  These are the times consumers want to come in.  So, it is not just within 4-10 days but also at a peak demand time within that period.  If you cannot see a new patient in that length of time, you will stop growing.  You have encountered a blockage that creates an impasse that forces growth to a standstill.  You can see that Monday thru Thursday from 8 to 5 will not cut it in today's environment.  Welcome to the new dental reality.  If you find yourself in this very limiting situation, it is time to expand the schedule and/or hire more hygienists.  Nothing slows growth as quickly as the inability to give patients what they want.
Be on time, every time. There is a double standard in dentistry that needs to go. We get upset when patients are late, but most of us are never on time.  Not being on time demonstrates incompetence at scheduling and treatment planning.  It is insulting to the patients when you do not value their time as much as you do your own.  Not being on time is the number one complaint I hear from patients (and also from staff!).  Start on time and finish on time or find out why you can't and fix it.  Use technology and the Internet to help the patients come in with all their records filled out.  This is your arena.  Organize and engineer your day for success.  Just a note:  Every hygiene operatory should be equipped with computers, two monitors, prophy jet, and piezo scalers, and intraoral cameras, and if possible, a "Dental Rat" or "Florida probe".  You cannot expect to maximize your day without the proper tools.
Start listening. As a doctor, I need to know three things when I walk into the room to meet the patient, perform a check, and do a case presentation: What do they want, what is their budget, and what is their dental IQ?  If you can help me understand this, you have set the stage for 100% case acceptance.  This is how it would go: You would triage the patient by doing x-rays, full mouth probing, cancer exam and disclosing using a light system, take intra-oral photos, review of medical history, treatment planning in the computer, and recording existing restorations and needed treatment.  Educate the patient by explaining what you are about to do, what you are doing, and what you just did.  Identify points of blockage in any patient relationship and make sure you are proactive in eliminating these confrontational barriers to treatment before they arise.  Involve the patient in the process by "talking with" them the whole time you are performing your duties.  Let them hear what you are thinking.  Let them see what you see.  Keep in mind that whatever you find will be "worse than they thought".  Your ultimate goal is to help them want what they need.  Patients gladly pay for what they want, not for what they need.  The trick has always been to have them want what they need.  While listening, you have to make a personal connection with them.  Find out who they are and what they do, and about their family.  You are bonding them to the practice.  They will see you at least two times a year.  They need to like you in order to return.  If your office doesn't have an 80% plus recall rate, you are falling short of your goal.  Find out why and fix it.  Patients tell you how you are doing by what they do.  Are you listening?
Start Talking. I know what your doctor doesn't know: Hygienists are most upset with the doctor when they have to wait for them to get there, and when they have to wait for them to leave.  There are a couple of things that you can do to eliminate several potential problems before they occur.  This will keep you on time, inspire the patient, and make your doctor look caring and compassionate while maintaining a productive schedule.  Once you have gathered all the clinical information, gotten to know the patient, and know why they are there, what they want, and what they can afford, signal your doctor that you are ready for a check.  Don't wait until the very end of the appointment.  Keep in mind that we are not checking you to be sure you cleaned their teeth well.  By notifying the doctor 20 minutes or so into the appointment and prior to actually finishing the cleaning, you give the two of you a window of time for the patient to be checked.  From the doctor's perspective, it allows him or her the opportunity to be on time for you, but also stage his or her exit from the patient he or she is involved with in an efficient manner.  When the doctor arrives, introduce him or her but do not let him or her talk.  The doctor knows this and you guys are working together to stage this interaction for maximum effectiveness.  Take this opportunity to brief the doctor on who the patient is, what they want, and what you found by using photos and technology to support the triage.  It would go something like this: "Dr. Abernathy, Mrs. Jones is new to us and came because her sister Mrs. Smith recommended us.  She just moved to town to be closer to her grandkids and the rest of her family.  Her husband passed away about a year ago and she just wanted to get back closer to her family.  Her previous dentist had been keeping an eye on the lower right first molar, number 30.  I took a photo and found a crack of the mesial buccal cusp and showed this to Mrs. Jones with the intraoral camera.  She says it is sensitive to pressure and a little sensitive to cold.  I had her bite down on a Q-tip and only the mesial buccal cusp was sensitive.  She had the old black mercury filling done 30 years ago.  I explained that you would probably recommend a crown to cover the tooth after removing the old mercury filling and any decay or cracked tooth structure so the tooth would not break or need a root canal.  I gave her a brochure about crowns and she would like to go ahead and set up an appointment to get this done.  In addition, she would like to remove the old black mercury fillings on the two bicuspids in front of it at the same time.  Her gums and soft tissue look good, and she has good home care.  She does have a slight chip on the edge of tooth number 8 and I told her you would be glad to smooth it today, so I went ahead a set up a soft flex disc.  I did take photos on the left side of tooth number 14 and 19. (You pop up the photo so that the doctor and patient can see it.)  I told her that those teeth look similar to the lower right and that you would probably recommend crowns on these before they crack or break.  She would like to wait until next year to do them.  The x-rays and cancer screening look fine. Mrs. Jones was relieved that we offer nitrous oxide at no charge and I indicated that on her record.  The health history looks good and has not changed and her blood pressure looks great".  With this introduction to what you have seen, the doctor now knows what the patient wants, what she can afford, and you have done an incredible job of "handing off the patient".  All the doctor has to do is "meet and greet" while studying the information you have laid out.  He or she will have already agreed with your findings as you mention each one.  Following this the doctor restates what you said in an abbreviated form to reinforce the fact that he or she was listening to what the patient wanted and closes by handing the patient back to you in this fashion. In this case the doctor would only have to say: "Mrs. Jones, it sounds like you would like to do the lower right crown and two fillings, but you would like to wait on doing anything on the left upper or bottom till next year?"  The patient says yes.  He turns to you while touching the patient's shoulder and says: "Sandy (the hygienist), make sure that you get Mrs. Jones in as soon as possible.  I do not want this tooth to break and require a root canal or the loss of the tooth.  You tell Cathy (the receptionist) to get her in within the next 24 to 48 hours even if she has to move someone".  The doctor then turns back to the patient and adds this short postscript: "We will do our best to maximize your insurance and fit any additional costs into your budget.  If you need anything just give me a call.  Between now and the time you come back be sure not to eat anything on that tooth until we get it fixed.  We don't want to take the chance of making it worse."  By doing this, we have created a top of the mind awareness of that tooth by asking her to be sure and not chew on it.  This technique of staging the transition and handoff guarantees the doctor will be in and out as effectively and efficiently as possible while keeping you on time.  It has the added benefit of making the doctor look caring and competent by setting the stage for a successful case presentation.  An additional benefit will be that if you have associates or junior doctors working, this strategy makes sure that their diagnosis or inability to diagnose and present treatment will be minimized while keeping production up and handling the patient perfectly.  The short script about not eating on the tooth and turning to you to make sure you get her in as quickly as possible creates urgency to the whole process while making for a flawless handoff.
Keep talking some more. There is a fallacy or myth in dentistry that alludes to the supposition that if you take care of the patients, they will refer their friends to you. Some will, but most will not.  You must have a structured, scripted referral-based system that you consistently use on every patient.  Bottom line:  You have to ask for referrals.  Every patient on every day needs to be prompted to refer their friends and family.  No exceptions.
Only the consumer gets to vote on how you are doing. Included here is what we call a "comment card". It is given to every patient you see and you must ask for their feedback.  You will notice that it also asks for referrals in the body of the card.  It is postage guaranteed and can be anonymous with its response.  This card works ten times better than software solicitation for feedback.  Patients know that you will capture their email with the digital response but feel that the card hides their identity.  Use it, and alter your systems based on the responses you get.  In fact, we always assumed that if we got one bad comment about some staff member or situation, that there were another 100 patients that said nothing and will probably move on down the street.  This is serious and we need to carefully consider the feedback we get from our patients and act quickly.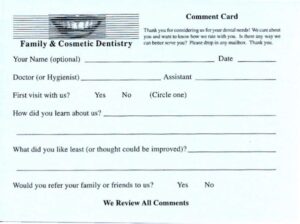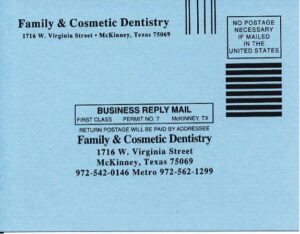 Learn the art of the handoff. In every track and field competition, they finish with the relays. Four people run varying distances and pass a baton between them in a handoff.  The race is often won or lost on how well the handoff is made.  A dental office is the same way.  Patients pass from a phone call to a schedule, from a receptionist to a hygienist, from the hygienist to the doctor and back again, to a financial secretary to a receptionist and it starts all over again.  Even if every person performs perfectly except one, the patient will never return.  98% of dissatisfied patients will fail to return or no-show and cancel when they are not inspired by the staff and doctor.  The biggest problem is that they will never say a word to you.  They will tell everybody else not to go to your office, but you will be clueless as to how they felt while they were there.  Welcome to the Donor practice.  Your relationship with your patients hinges on the handoff.  It needs to be seamless.
I know I am spending a lot of time on getting patients to say yes, but if you will lose your excuses and concentrate on the details of the fundamentals, I can guarantee your future success as your practice elevates itself to the next level.

Michael Abernathy, DDS
972.523.4660 Cell
a href="mailto:[email protected]">[email protected]