I was speaking with a dental friend in Canada and not 2 hours latter two other dentists from the US called with the same statement. "Mike, it's really hard to find hygienists and many of the ones I have are complaining about doing hygiene without aerosols. We are backed up in hygiene because of this and even though we are facing some challenges in hygiene because the next two months corelating to being 6 months from the time we were forced to close, I am not sure what to do." This was followed by a litany of ideas to buy expensive PPE equipment or some other strategy to coerce their hygienists into doing what they were hired to do.
I have had an equal number of doctor's call that are in the old "woe is me" mentality even though this situation was clearly forecasted in the articles we posted written 5 months ago. Their stance is to take no action, and wait for this pandemic to blow over. They learned nothing from the Great Recession in 2009, took no actions, and like the average dentists since 2005, they have taken home less every year since then. They view the pandemic as a catastrophe of such gigantic proportions as to be an "unassailable", Black Swann event.
I, on the other hand, understand that things like this have happened in the past and will happen again. Each of you needs to put on your big girl panties and deal with this. The strategy is to deal with this through aggressive action and get ready for the next time. 5 years from now, the wise doctors will see 2020 as an opportunity to change their culture and bottom line. They own their actions and know that the future belongs to the person that acts quickly, knowing that whatever they do will not be perfect, but they act knowing that any action brings you closer to taking advantage of where you are right now.
Point in fact: The dentists who were stymied by the hygiene departments not wanting to clean teeth without aerosols were also the ones that really failed to be part of the solution rather than another obstacle in the Great COVID Reset. Each of these three doctors only marketed for high-end range of services but, in fact, had general practices that saw kids and young adults, too. They were so close to the problem that they were not seeing the low hanging fruit when it was staring them in the face.
I asked each one to change their marketing to bolster their numbers of kids, teens, and young adults. Hours needed to be changed, services highlighted, and outreach increased. There is a "point of entry" in every consumer driven business and dentistry is no different. Kids will grow your practice faster. If you can capture the kids, you will get the parents and the grandparents. Now is the time to seek out and court the younger segment of your practice. You can have productive shorter visits to increase hygiene. For the most part, no aerosol producing equipment is usually used on kids, teens, and young adults. So, the hygienists are happier and they are back to being productive. If this is done as a growth outreach and marketing campaign to increase new patients while widening the treatment age base and services you offer, you will have no competition. Create a funnel to snag the kids and you increase the momentum of growth in challenging times by not relying on what you have always done. This works.
Seeing things in a different way gives you different options and better results.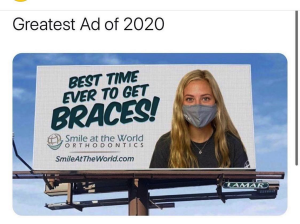 This orthodontist took the biggest complaint about ortho and tuned it into an advantage. You don't like your braces showing, but you are already wearing a mask. Problem solved. This doctor is definitely not settling for average or waiting for this challenge to go away. Look at your practice and the challenges you face in a different way. Look at them not as a dental employee or doctor, but with the mindset of a "Consumer" and reap the benefits of seeing things differently. This is how you Summit.

Michael Abernathy, DDS
[email protected]
972.523.4660 cell