Allow me to try and be more objective this week and mention the good points and the not so good points about DSO's.
THE UPSIDE ARGUMENT FOR JOINING A DSO:
Decreases the amount of time that a dentist spends running the business.
Minimizes the doctor being the actual leader of the practice.
A non-dentist can indirectly own equity in a dental practice.
The practice can buy supplies, equipment, and lab services at a discount lower than a solo practice can.
Marketing advice and execution.
Hiring and management of non-clinical staff.
Accounting
Legal
Instant income and work for new graduates with lots of debt. (85% of graduates enter corporate dentistry)
Compliance with HIPAA and OSHA.
Money for technology and growth.
Continuing education for the doctor and staff.
Reduction of administrative responsibilities for the doctor.
A retirement exit strategy for doctors at the end of their careers.
There are varying structures to DSO's. (possibly good or bad)
Generational fit with younger dentists that crave a better work-life balance and do not seek ownership. Currently only 32% of female graduates and 67% of male dental graduates are becoming owners in their careers.
Possible qualification for using the new 20% pass-through deduction (Code 199A).
THE DOWNSIDE ARGUMENT FOR JOINING A DSO:
Loss of autonomy and control and management decisions.
Employee status rather than owner (you can be fired even if you are still a shareholder in your practice).
No standard set of terms in DSO relationships and/or contracts (this is not going to change because of a constant search for ways to get around state board requirements and risks of ownership with equity partner oversight).
A lack of full and open disclosures, layers of conflicts of interests, and a series of misrepresentations can compromise the patient's standing in the doctor/patient contract.
You have to give up control while being expected to produce the same dollar amounts or more. This may include subordination to a DSO as an employee of the corporation.
Limited income ceiling.
Being the doctor on call means the buck stops with you but the culture and decisions are made by the DSO.
Lack of independence.
Bad reputation.
Inability to get out of a bad contract.
Looked down on by other dentists.
No consumer minded culture of serving the patient and building strong long-term relationships.
Not all DSO's are well managed and operated (dare I say most).
Some DSO's are known to pressure dentists to work more than necessary, make clinical decision based on profitability for the DSO, and minimize using the latest and best supplies and equipment in order to control the overhead.
A lot of new players in the DSO business that lack the knowledge or track record to succeed in the business of dentistry.
Inability to control corporate decisions about when to sell so that you can actually realize an exit strategy and cash-out.
Legal implications that can go sideways.
Poorly written management service agreements that fail to meet the State Dental Board requirements to operate the dental office within a DSO.
Lack of any authority or oversight on how the office runs.
If the DSO supplies malpractice insurance, it sometimes compromises the legal liability you thought you were getting.
These entities bring a commodity mindset where your services are "sold", rather than a culture of service and relationships.
You basically just have a job with no guarantee of the future.
DSO's do not "create" any real value.
THE COMMONALITIES AND STRUCTURE OF MOST DSO's:
The DSO is not the technical owner of the clinical practice. NOTE: ADA guest editorial by Garcia: "a dentist's professional and ethical obligations are always to place a patients' best interests above the dentist's self-interests."
The typical dental professional corporation (the licensed "owner" dentist) makes the clinical decisions.
Every DSO or Management Services Organization (MSO) has some form of a "Management Service Agreement (MSA)" with the doctor owned professional corporation. This is the foundational basis for an entity that allows the DSO to control and operate a dental practice even though your state board (in all but three states) blocks a non-dentist from owning and operating a dental practice. It is this document along with the reality of how the office will be run following partnering with a DSO that creates the legal and ethical culture of this practice. The actual structure of this MSA is structured to hold a long-term or even perpetual service with the owner doctor's profession corporation.
The DSO is usually an LLC.
The licensed dentist owns a professional corporation that employs the dentist.
The investors, or owners of the DSO or MSO, are connected to the dentist's professional corporation through the management services agreement that is nearly always an unusually long-term agreement. This is their most important document because it details how they are paid.
Concurrently with the signed Management Services Agreement between the DSO and the dentist's professional corporation, the DSO purchases all of the equipment, leases, and nonclinical employment agreements for the practice. The DSO will then assume complete day-to-day operational control of the practice while only the clinical decisions are left to the dentist.
The DSO acquisition is in the form of a stock purchase or an asset purchase.
DSO buy-out is usually funded by the participants of the DSO and/or private equity funding looking for and expecting a certain level of return on their money.
NOTE: There is no clear distinction between the term private practice and corporate dentistry. Most solo private practices are professionally incorporated (PC) and all states except three (Arizona, Wisconsin, and Utah) require dentists to own dental offices.
In a Dentistry IQ article by Bruce Bryen, CPA: "The greatest enemy of clear communications is unclear definitions…in your practice you may define revenue as your gross production month, not taking into account adjustments, refunds, reworks, collections, and other variables that may go into the DSO's definition of revenue calculations." "Most DSOs have several requirements that the seller must accept before proceeding with an acquisition. The first requirement usually, as a condition of sale, that the seller remain with the practice as a provider for a two-year period after the sale. Compensation is around 25%-30+% or the seller's post sale personal net production. There is no credit for hygiene production other than the doctor's exam…"
Most, but not all, have a non-compete clause in the dentist's employment contract.
Areas that a non-dentist cannot do:

Push certain clinical procedures to increase profit.
Set parameters for insurance contracts.
Select dental equipment and clinical supplies.
Set the number of patients the clinical staff must see a day.

DSO area of influence, control, authority and oversight:

Non-licensed staffing, hiring, termination, policy manuals, management, policies and procedures.
Recruiting of these staff members.
Insurance negotiations and accounts receivables.
Lease of office and dental equipment for the practice.
All administrative services including paying bills, accounting and banking issues.
Marketing the practice
Purchasing of office supplies
Facility management
IT maintenance as well as software selection, updates, and training.
Compliance, OSHA, HIPPA
Leadership of the office in non-clinical areas.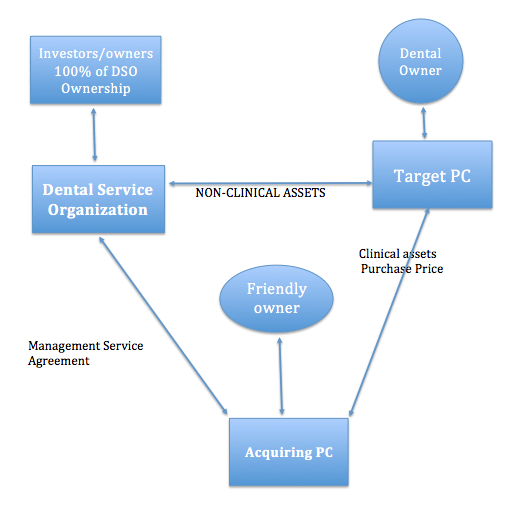 There you have it. DSO's on a bullet-by-bullet list of positives and negatives. Please take the time to consider your alternatives. My perspective is that the initial cash windfall accompanied by a lot of promises from a DSO who is betting that they can get 8-10 times EBITDA from a yet unknown buyer to fulfill your every dream of just showing up to just do the "dentistry" is fraught with layers of difficulty and endless promises that may never come to pass. These are sirens singing songs of wealth and management worries. When I look at the advantages of a DSO buy-out, they almost always work best as an exit strategy for an older doctor. The young doctor is closing the door on their future earnings from ownership while trading it for a guaranteed income now. The doctors that are considering working for a DSO mid-career are almost always those who struggle with issues of practicing that a coach, good CPA, marketing expert, and attorney could easily solve while maintaining your ownership upside.
It comes down to asking the right questions. Before you do that, be sure that what you want to hear will not necessarily get you where you want to go. Commit to taking back your future, own your results through accountability, and begin the journey to financial security and fulfillment for a new future. That is how you Summit.
Michael Abernathy, DDS
972-523-4660 cell
[email protected]